Seno Medical Instruments has designed an innovative new opto-acoustic technology for improving the cancer diagnostic imaging process through the fusion of opto-acoustics (OA) with gray-scale ultrasound (OA/US).
Seno owns the core patent on OA technology for any medical applications and has developed or in-licensed additional patents to enrich its portfolio. Together with the core patent, this constitutes a robust platform technology with a multitude of potential follow-on applications.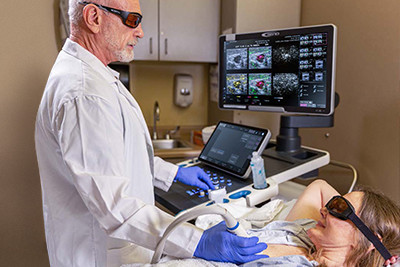 Diagnostic Imaging
Seno's first clinical product targets breast cancer diagnosis and will be used as an adjunct to screening mammography, incorporating opto-acoustics and ultrasound, providing clinicians more confidence in diagnosing malignant or benign masses. In the U.S., the Imagio® Breast Imaging System (9100) has FDA PMA approval. In Europe, the Imagio® Breast Imaging System (9005) has received the CE Mark (April 2014).
Future Applications
While the commercialization of Seno's Imagio® Breast Imaging System is underway today, many other exciting applications lie in the future. These could include research, screening, diagnostic and treatment devices for other forms of cancer including thyroid, head and neck, prostate, cervical, ovarian and bladder, in addition to therapeutic monitoring of drugs.
What's wrong with the breast biopsy process today?
Patients share their stories.